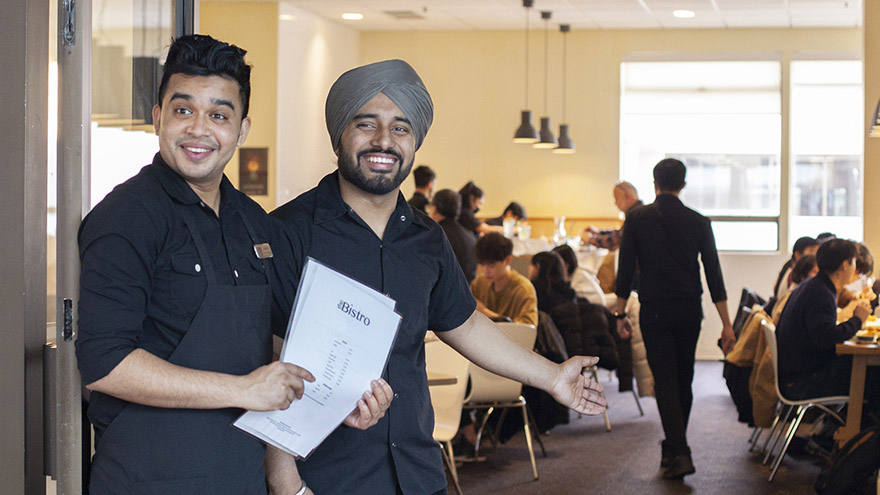 Overview
Gain in-demand entry level skills in hospitality, food and beverage, accommodations, sales, marketing, and events while preparing for employment or further education
Future Skills Grant Eligibility
Are you a domestic student currently residing in British Columbia?
The Future Skills Grant program may be able to cover your tuition and other eligible fees. Please check our website to determine your eligibility.
All other students may still register for this program through the course links below.
Are you interested in courses and programs for January 2024?
StrongerBC Future Skills Grant funding has been approved for midstream students who started their programs in Fall 2023 and wish to complete their programs in Winter 2024. If you're a midstream student, please contact us at continuingstudies@vcc.ca.
Updated November 27, 2023
What you will learn
Upon successful completion of this course, participants will have demonstrated the ability to:
Establish foundational hospitality industry specific knowledge and skills, creating an education pathway into VCC's Hospitality Management Diploma.
Demonstrate an appreciation and understanding of careers within the hospitality industry.
Develop knowledge and skills to support entry level employment in the hospitality industry.
Participate in a Reflective Networking Capstone event for hospitality industry leaders to increase industry awareness and strengthen employment prospects. industry awareness and strengthen employment prospects.
Review the origins and history of tourism.
Examine the sectors of tourism and hospitality and their relationship within the hospitality industry.
Identify the importance of tourism to Vancouver, British Columbia and Canada.
Determine travel behavior and marketing influences.
Examine the impacts of tourism including economic, social, environmental stewardship and climate change.
Discuss indigenous tourism in BC and Canada.
What to expect
This micro-credential introduces students to the hospitality industry – a dynamic, fast-paced industry with extensive opportunity for engaging employment. Students who complete the micro-credential will acquire in-demand entry level knowledge and skills for employment, and a learning pathway to further improve their qualifications and expand career opportunities within the hospitality industry.
Classes will be a combination of face-to-face and fully online in a blended model.
Fees and other costs
| Fee description | Fee Amount | Notes |
| --- | --- | --- |
| Tuition | $687 | |
| College initiative | $5 | |
| Campus resource | $28 | |
| Materials | $145 | not including textbooks |
| Total | $865 | |
Need help with tuition?
---
Explore your options for scholarships, grants, bursaries, and loans.