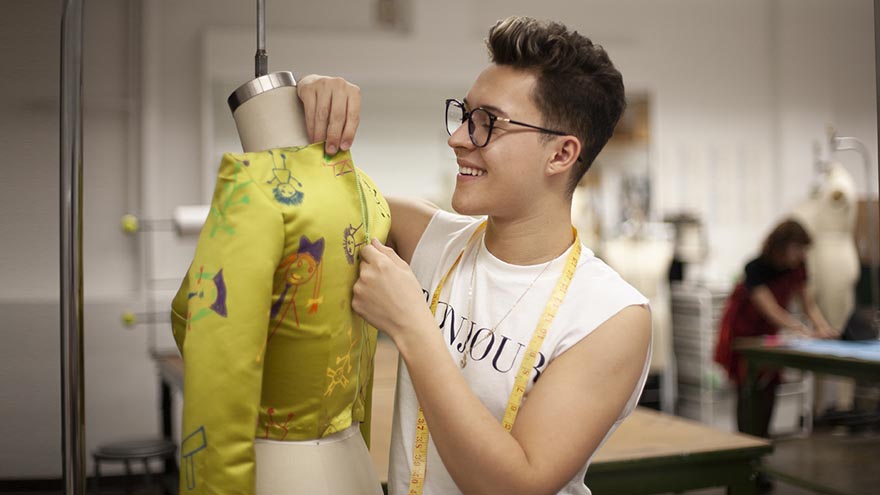 Overview
Develop creative and technical skills for the fashion and apparel industry by learning design, production, and sales through fast-paced fashion cycles.
For Application Deadlines and Important Dates, click Apply Now
What you will learn
Fashion production
Technical illustration (Illustrator, Photoshop)
Pattern drafting
Draping
Knit garments
Lined dresses
Office attire
Niche body types
Fabric properties, testing, and sourcing
Textile industry ethics
Fashion industry issues and trends
Fashion history and culture
Precision drawing
Professional hand and machine sewing
Textile print and dye techniques
Garment construction
Manufacturing specifications
Creative vision
Branding and marketing
Professional communication
What to expect
Mandatory attendance
Practical labs and demonstrations
Team activities
Computer work
Field trips
Independent learning
Student presentations
Individual and group projects
Written exams
Research assignments
Self-assessments
Lectures, seminars, videos
120-hour industry practicum
Admission requirements
Admission is a competitive selection based on the following criteria:
Grade 12 graduation, or equivalent
English 12 (C grade), or equivalent
Letter of Intent (500 words or less)
Resume
Two Letters of Reference
Artistic portfolio:

Two pieces of original artwork with accompanying description
Sketch book

Two sewn items
Interview with selection committee
Proficiency in Microsoft Word and Excel (testing to be performed onsite)
VCC recognizes that some applicants may not possess a detailed portfolio or sewing experience. A demonstrated interest in fashion through hobby, education, portfolio, or work experience are acknowledged and seriously considered by the department. These applicants will still need to submit all other documentation, participate in an interview, and potentially take sewing and/or drawing courses prior to starting the program.
Recommended Characteristics
Imagination and creativity
A good aesthetic sense
Comfort with a fast paced environment
Good communication skills, both verbal and written
The ability to handle criticism
The ability to work well with a wide variety of people
Motivation, curiosity, and research-orientation
Some sewing skills
General knowledge of fashion designers and styles
Fees and other costs
Fee description
Fee Amount
Application fee

$35

Tuition

$16,105

College initiative

$99

Campus resource

$322

Materials

$410

not including textbooks
Total

$16,971