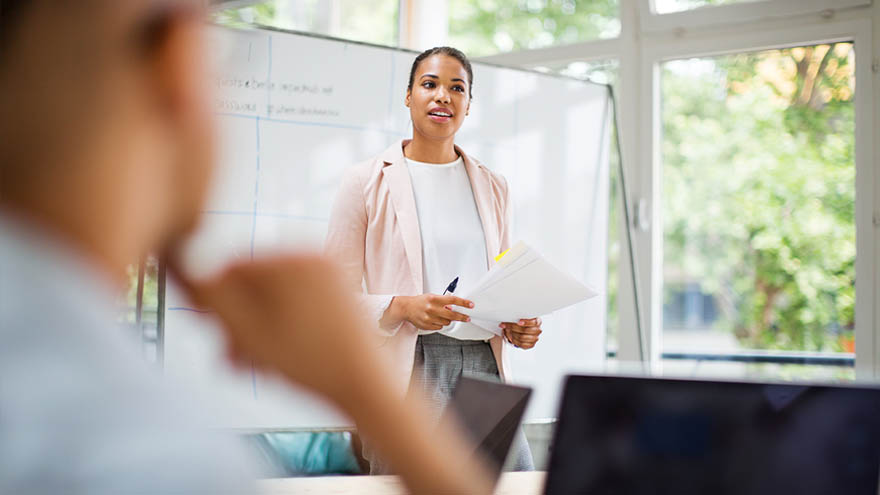 We are excited to launch the new Applied Leadership and Business Management Certificate beginning September 2022. As a result, this program will be discontinued.
If you are a current student in the Business Leadership & Management certificate, please reach out to leadership@vcc.ca to address your individual program completion needs.
For new students, you can learn about the new Applied Leadership and Business Management Certificate here.
Overview
Explore proven leadership practices and gain skills to successfully lead, supervise, and manage in public, private, or non-profit sectors.
What you will learn
Effective communication for organizational advancement
Ethical actions regarding stakeholders and the environment
Critical business thinking
Accounting, finance, and investment principles
Leadership theories and perspectives
Human-resource processes and systems
Sales and marketing strategies including non-profit and global selling
Team building in a multicultural workplace
Approaches to small business, technology, and competition
What to expect
Practical assignments
Tests
Projects
Presentations
Reflections
Admission requirements
Vancouver Community College is a post-secondary institution committed to educating adult learners. Applicants should be 18 years of age or older, or a secondary school graduate.
Recommended Characteristics
Highly motivated
Able to work well in a structured environment
Ability to work with confidence independently and on a team
Ability to reflect on their own practice
Excellent oral and written communication skills
Enthusiastic, positive attitude
High performance standards
Initiator, self-starter
Flexible, adaptable
Fees and other costs
| Fee description | Fee Amount | Notes |
| --- | --- | --- |
| Application fee | $35 | |
| Tuition | $4,074 | |
| College initiative | $43 | |
| Campus resource | $163 | |
| Total | $4,315 | |