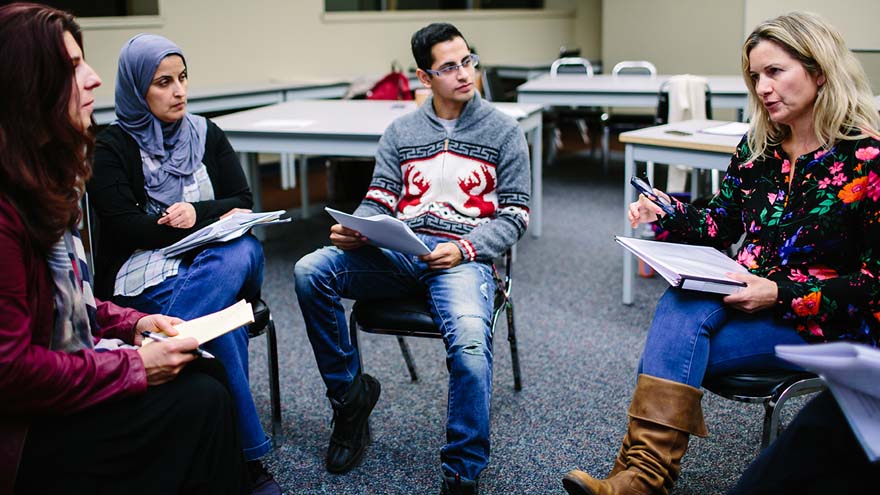 Overview
Deepen your knowledge and practical skills to engage effectively with individuals, groups, and families struggling with problematic substance use.
What you will learn
Empathetic approaches in working with people struggling with problematic substance use
Supportive counselling techniques for individual, family, and group settings
Evidence-based models, tools, and interventions specific to substance use
Trauma-informed practice
The impacts of historic and systemic oppression
Indigenous health models and cultural safety
The values of inclusion and social justice
Concepts of a helping relationship (respect, self-awareness, ethics)
Effective communication
Language as an agent of social change
Self-awareness and challenging of assumptions
What to expect
Practical and experiential learning
Emphasis on skills and integration of knowledge and practice
Lectures
Seminars
Group discussions and activities
Demonstrations
Guest lectures
Videos
Clinical simulations
Field trips
Presentations
Group projects
Exams
Research
Assignments
Lab work
Portfolios
Self-assessment and reflection
Supervised community practicum
Admission requirements
Upon Acceptance:
Students in this program are required to complete a CRC. The CRC must be completed according to VCC's Criminal Record Check instructions. Students whose CRC results indicate they pose a risk to vulnerable populations will not be able to complete the requirements of the program (e.g. practicums) or graduate.
Recommended Characteristics
Basic computer skills
Familiarity and comfort with basic research skills
Ability to give and receive feedback
Maturity, emotional stability and a suitability to work in a helping role
A sufficient level of self-awareness and personal and professional development to be able to attend to another person
An interest in helping people and willingness to work in support positions in community settings
Fees and other costs
| Fee description | Fee Amount | Notes |
| --- | --- | --- |
| Application fee | $35 | |
| Tuition | $5,886 | |
| College initiative | $41 | |
| Campus resource | $118 | |
| Total | $6,080 | |